Road Development and Management
Asset Management (Protection, Maintenance, and Infrastructure Management)
Supporting management in order to maintain and maximize the value of social infrastructure
We provide know-how, technologies, and tools not only to maintain and conserve individual facilities, but also to comprehensively maintain and conserve our social capital in its entirety. We work to respond to new needs and expectations with respect to changes such as population decline, lack of financial resources, and the aging of facilities, as well as digitalization and disaster prevention.
Comprehensive outsourcing of roads to the private sector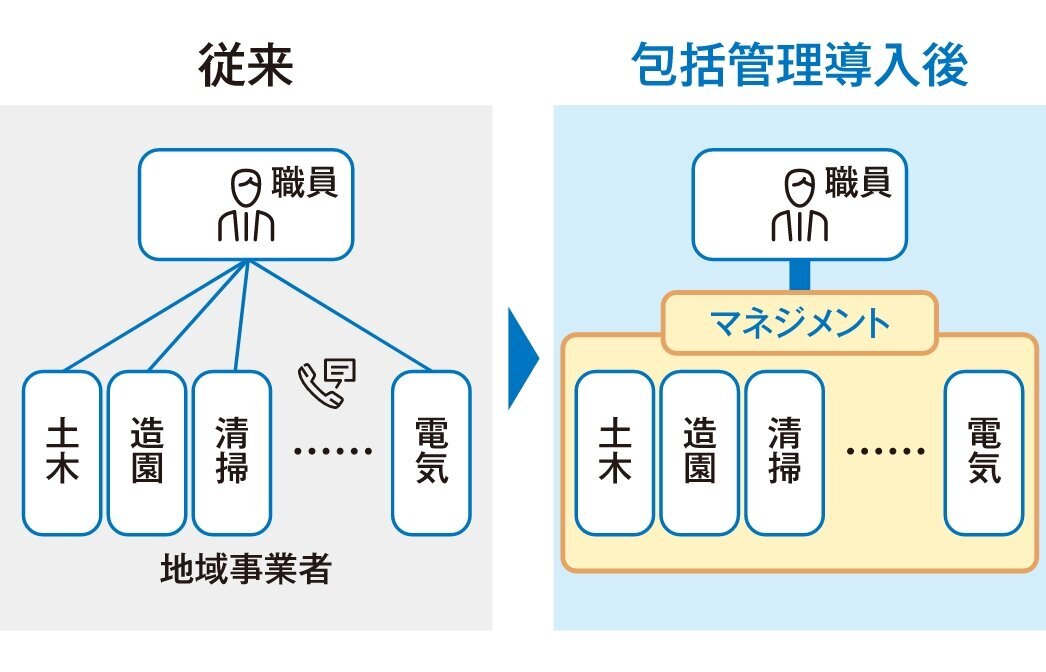 We carry out a detailed examination of management methods and support the establishment of new systems. There are already multiple examples of the comprehensive outsourcing of road maintenance to the private sector, and it is necessary to work out outsourcing terms and methods that can be effective, based on regional characteristics. We support the introduction of comprehensive outsourcing of roads to the private sector, making the most of our track record of introduction studies to date.
Verification of the effectiveness of environmental paving, management, and maintenance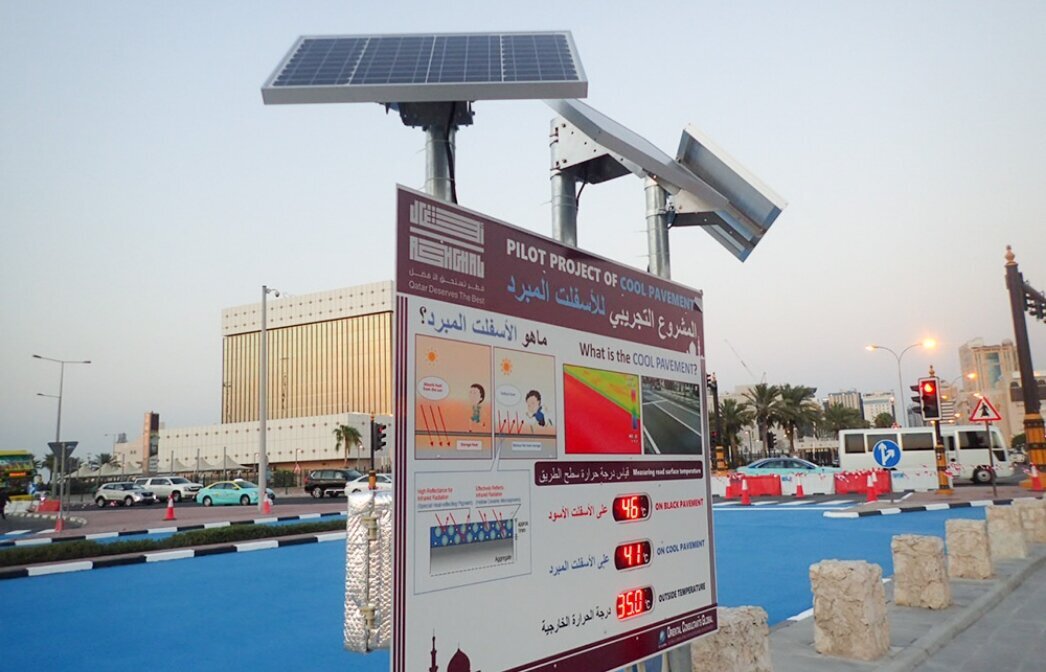 We verified the durability of the long-term effectiveness of environmental paving (heat-insulating paving) in reducing road surface temperature through the application of heat-shielding material to the road surface as a measure to combat the heat island effect on roads. Additionally, we examined maintenance and management methods with regard to the progression of the peeling of the heat-shielding material. We are also expanding use of this technology to overseas.
Restructuring and consolidation of school swimming pools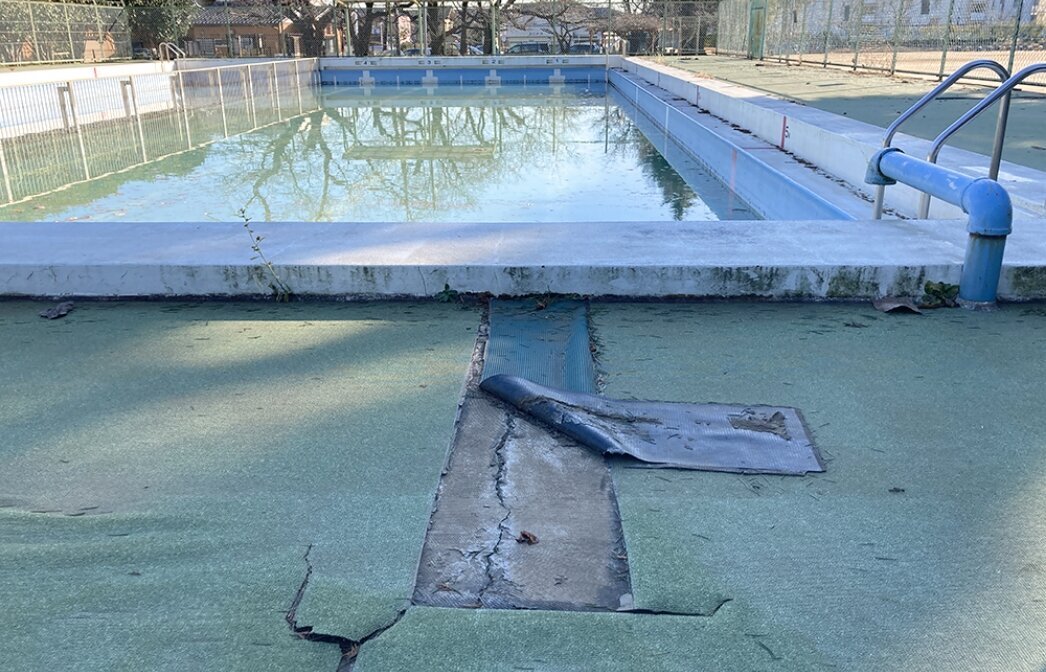 A huge number of swimming pools in elementary and junior high schools were built during the rapid increase in number of children in the 1970s and these facilities are now 40 or 50 years old. The financial cost of repairing or replacing these old facilities is a significant problem for local governments. We are engaged in drawing up plans for restructuring and consolidation of pools specifically tailored to individual local governments by comprehensively analyzing the current situation from the perspective of cost, risk, and performance. Through this process, we are taking a new look at school swimming pools to create safe, reliable, financially sustainable, and appealing environments in which our children can learn to swim.
Bridge repair and service life extension planning in Ibaraki Prefecture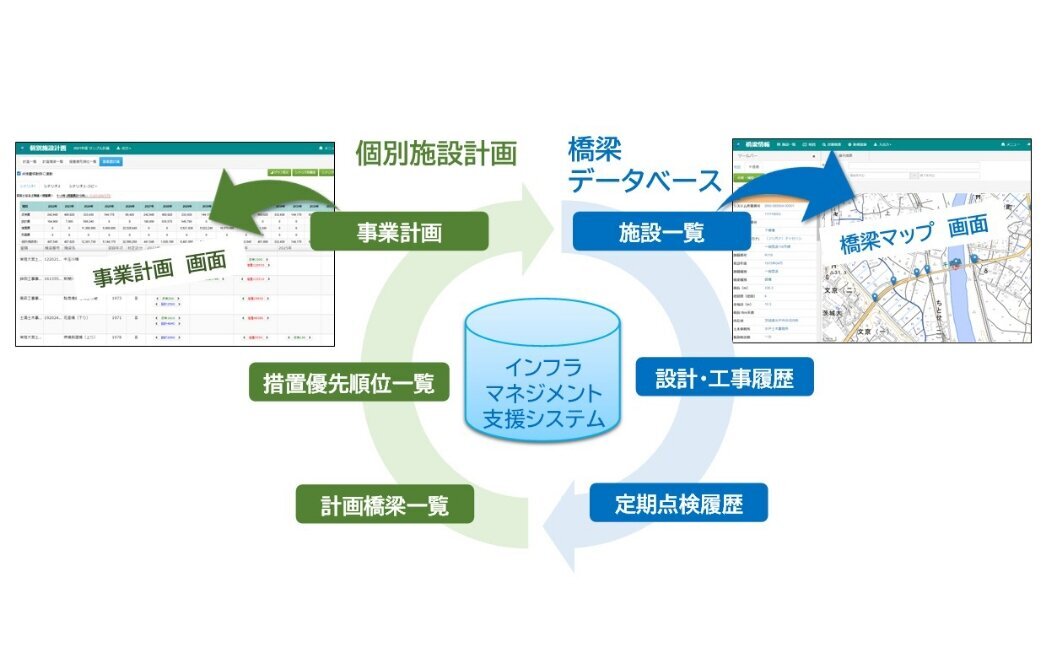 In revising the bridge repair and service life extension plan, we introduced an infrastructure management support system (for bridges). Using this system (which manages inspections, surveys, design, and the state of progress of construction), and setting the repair implementation rate and soundness level as KPI indicators, enables evaluation and continuous improvement of the plan.