Regional Development
Carbon Management and Energy
Focusing on energy while aiming to create a sustainable society
We provide wide-ranging support for the environmental administration of local governments nationwide, including the preparation of zero-carbon plans, plans for an energy vision, and plans for a carbon-free society (mobility, EMS, VPP, etc.). We also provide services related to the study, design, and installation of environmentally friendly equipment. In addition to initiating many independent projects relating to renewable energy, we are also developing sustainable communities through the promotion of local production/consumption of energy and the sale of surplus electricity.
Feasibility study on the use of renewable energy in facilities related to Nishikigoi (ornamental carp) in Ojiya City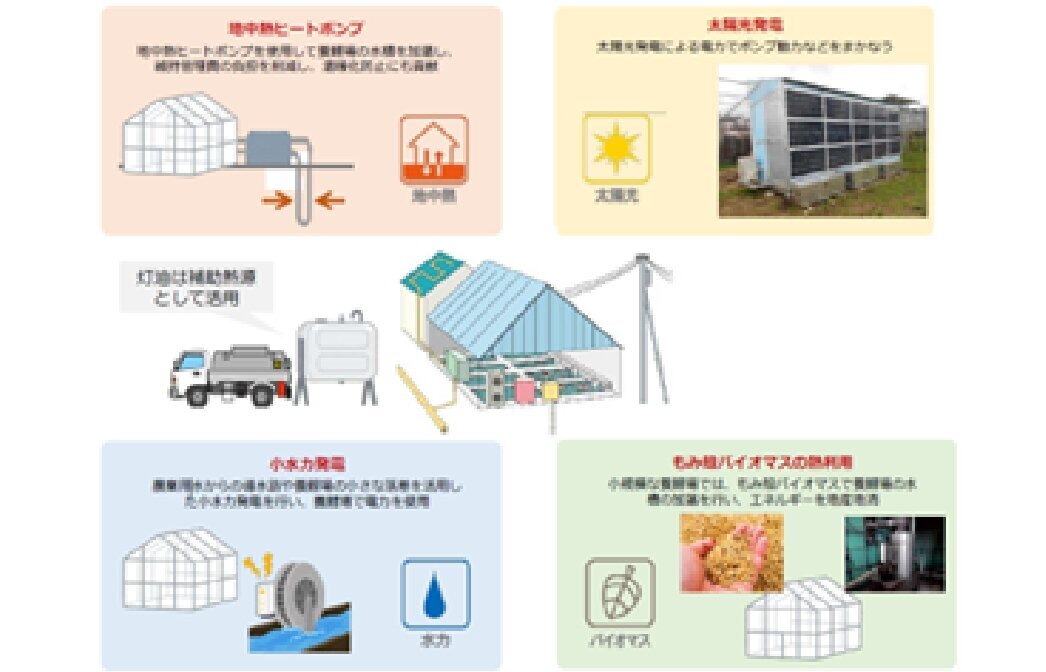 We conducted a feasibility study into the use of renewable energy such as geothermal heat pumps at Nishikigoi-no-Sato (Nishikigoi village), a facility for viewing Nishikigoi ornamental carp and a main attraction of the city. This plan would reduce running costs for ornamental carp aquaculture, which is one of main industries of Ojiya City.
Odaira mall-scale hydroelectric power generation project in Yonezawa City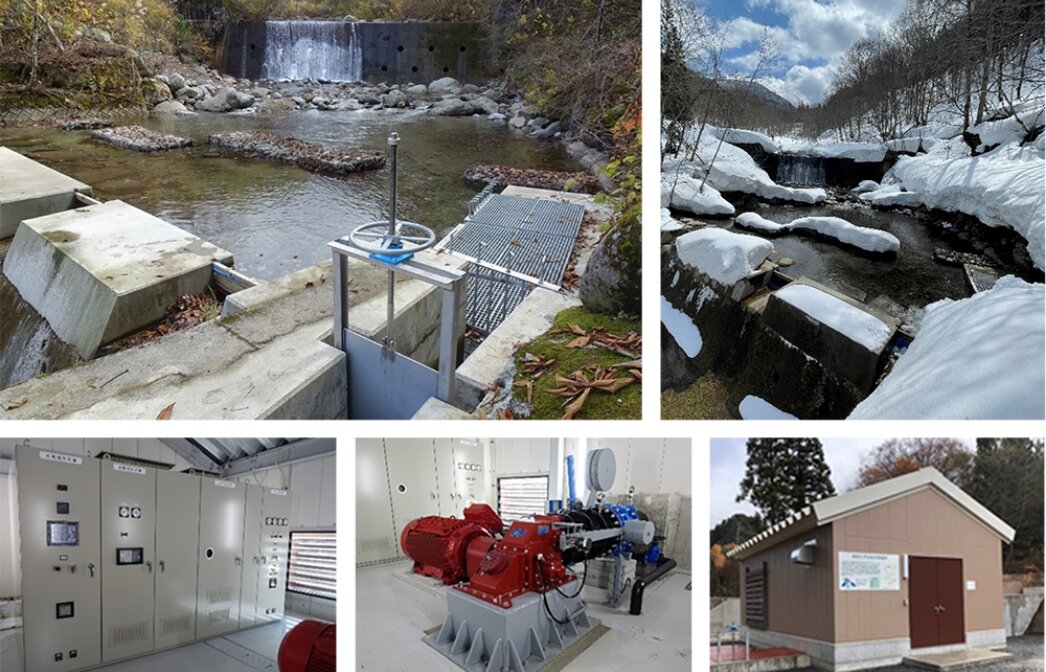 The small-scale hydroelectric power plant in Yonezawa City, Yamagata Prefecture (our 4th power-generation project), began operation in November 2021. Using the Feed-in Tariff (FIT) system, the facility has a maximum output of 198.0 kW and the annual power generation over the 20 years of the FIT is expected to be 1.13 million kWh (equivalent to the electricity demand of 350 average households). Part of the existing irrigation facilities installed by the local community on the Yokokawa River, an unclassified river, were upgraded to serve as waterways for power generation. As the use of the facilities is shared, this project also served to renew the local irrigation facilities.
Woody biomass power generation project in the Uonuma area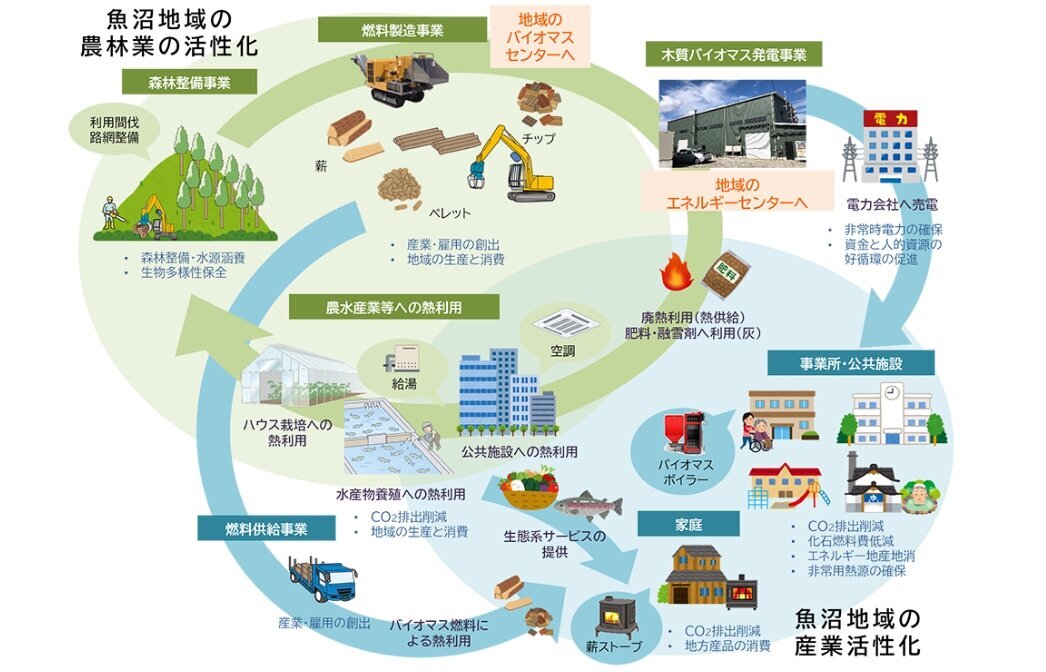 We are conducting studies on the implementation of a long-term woody biomass power generation project, using thinned wood provided by the Minami Uonuma Forestry Association and other authorized bodies in Uonuma as fuel, and making use of the Feed-in Tariff (FIT) system. It is hoped that by creating jobs in the local forestry industry and utilizing waste heat, this project will revitalize the region and create jobs.
Renewable energy plan for Shimotsuma City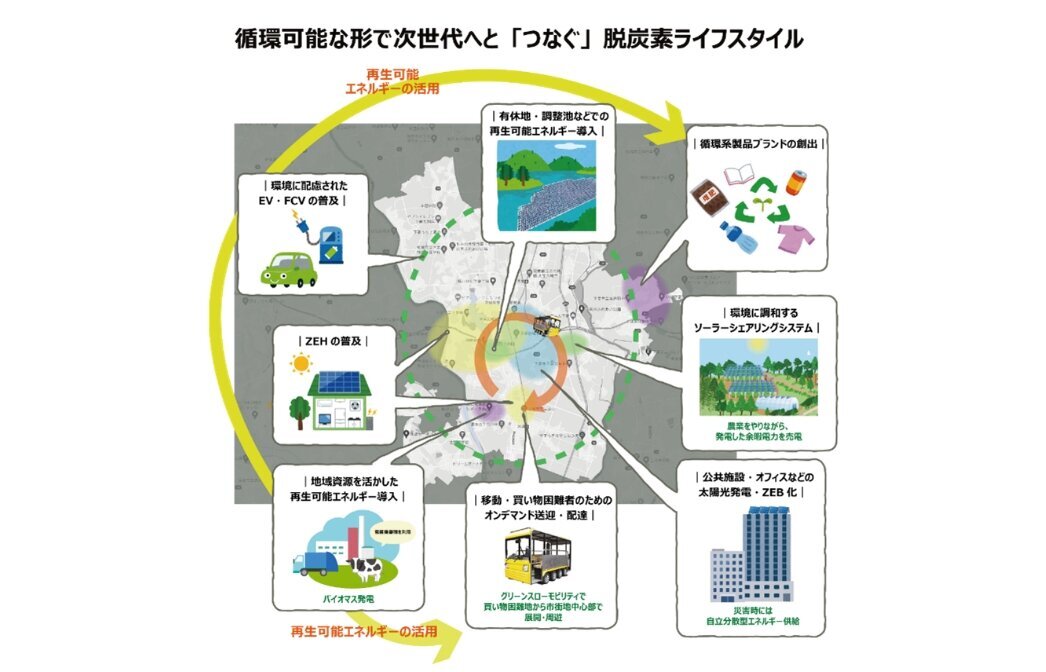 We conducted an investigation for the development of an introduction model, including an estimate of local energy consumption, research into the potential of renewable energy and its cost-effectiveness, and developed the "Shimotsuma City Renewable Energy Plan." We also carried out a feasibility study into a biomass power generation project using livestock biomass, a resource unique to Shimotsuma City.